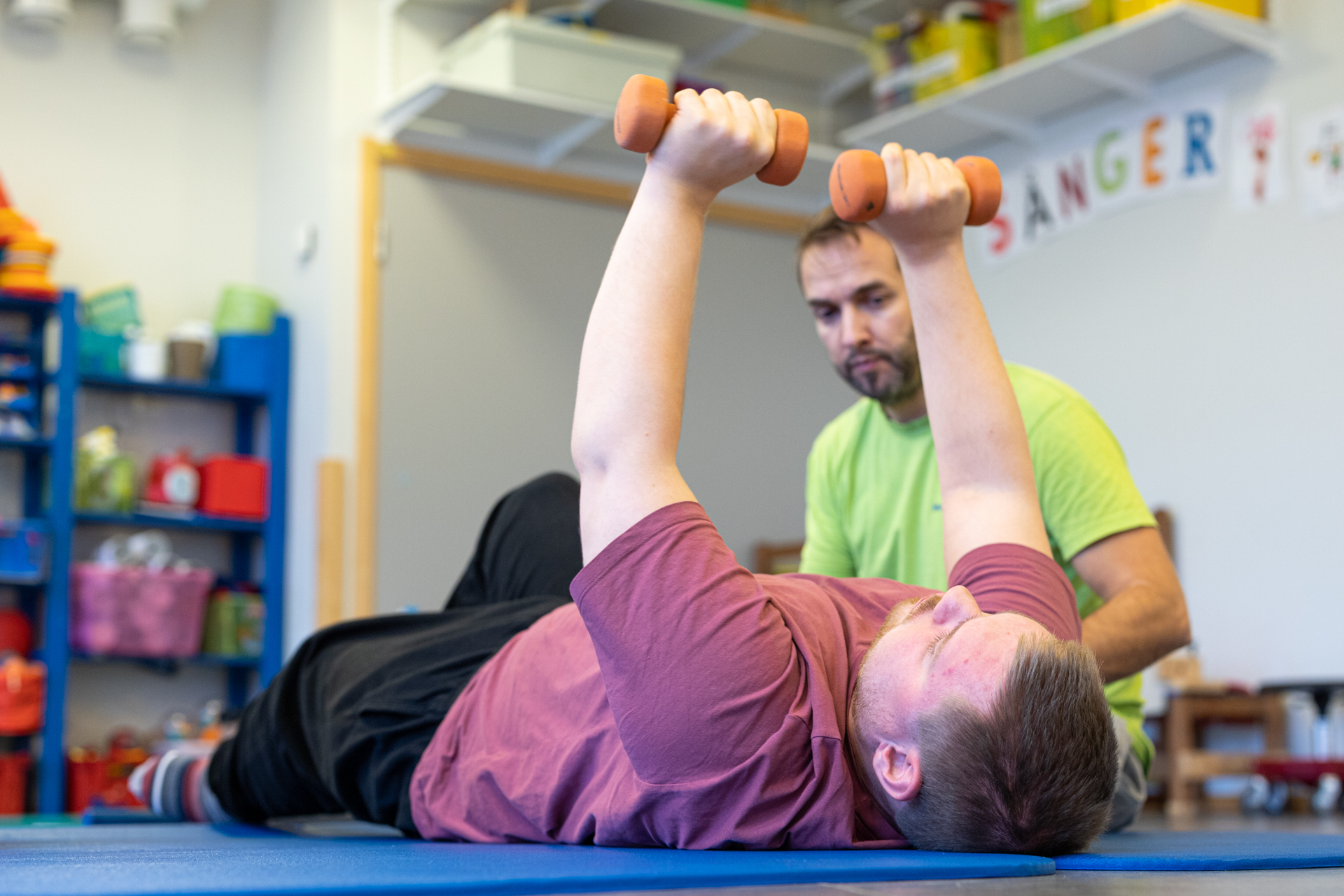 Conductive Education (CE) is more than just a form of training; it is a lifestyle!
At Move & Walk Assistance, we offer you a high quality of CE where you and your assistants train and develop together in your everyday life. Furthermore, with regular follow-ups, you will continue to progress between training sessions.
Move & Walk Assistance has a close collaboration with Move & Walk Training, and together we provide you with a pedagogically based rehabilitation. Your assistant adapts the approach to suit your needs – our goal is for you to live an independent, joyful, and active life. Within CE, we work with your own motivation, initiatives, and efforts. The assistant provides you with the necessary support while also creating challenges for you to develop and achieve your goals.
Why should you choose Move & Walk Assistance?
Move & Walk is a family-owned company that started personal assistance services in 2010 based on the request of training customers. They wanted to have the best of both worlds: personal assistance combined with CE.
As a customer with us, you will have a personal customer and assistant coordinator who will assist you with everything related to your personal assistance. This includes scheduling, time reporting, recruitment, staff management, supervision, legal matters, and communication with authorities, among other things.
You will also have a personal Conductor who will assist you with everything related to CE. On our platform "Yes, I can", you and your assistants will have access to a wide range of information about CE, and you can also track your personal development. You will have continuous access to your personal Conductor, who will assist in training you and your assistants.
As a customer, you also have significant influence over your customer budget, and each year we evaluate what has worked or not to make any necessary changes to ensure the best possible experience for you.
Your assistants receive basic training such as assistant training, CPR, fire safety training, CE levels 1-3, and more.
Conductive Education Levels 1-4
This is a foundational training program designed to provide your assistants with a greater understanding of CE and knowledge about various diagnoses related to neurological injuries.
Home visits
Your Conductor visits you in your daily life, whether it's at your school, workplace, or during your leisure activities. Here, your assistants receive tips and advice to help integrate the theory into your daily life.
Training week
Your assistants receive training in Conductive Education at our locations in Gothenburg, Malmö, or Solna, for a period of 1-4 weeks.
Since you receive regular training together, it creates a tightly-knit assistant team and helps you achieve the goals set by you and your Conductor.
Become an assistance customer with us!
Move & Walk's basic offering is comprehensive and covers administration, basic training for your assistants, insurance, legal assistance, and more. Of course, you can also add additional training for your assistants, allowing you to customize a package according to your preferences and needs.
We warmly welcome you to submit an expression of interest to us!
We have a close relationship with our customers
At Move & Walk Assistance, we are passionate about our work, and we always strive to maintain a close relationship with our customers. We have a flat organizational structure where your preferences and wishes are at the forefront, providing you with significant opportunities to influence your daily life.
Move & Walk assists you with all administrative tasks, such as employee meetings, recruitment, and communication with authorities. We also create a financial forecast where you have the freedom to determine the level of assistance you require, the training programs you want your assistants to attend, and any specific areas where you would like to allocate funds.
It is important to us that our employees are well and continuously develop in their roles. This ensures they feel secure in their work, which, in turn, provides you with a reliable and calm assistance. Therefore, we invest in regular training programs, and naturally, we also offer wellness benefits to our employees.
We base our approach on your needs and provide training to your assistants to tailor their skills to your unique situation. The assistants are equipped with the tools necessary to provide you with the assistance you specifically require to lead an independent and joyful life.
We have authorization from IVO (Inspectorate for Health and Care) and collective agreements with Almega. We adhere to the guidelines provided by IfA (Independent Living Sweden).
We work with high quality!
The most important thing for us is that you feel good and can live your life to the fullest, based on your unique situation. We actively focus on both quality work and customer satisfaction to continually improve our services.
In our annual customer survey, you have the opportunity to share your experience with your assistance, which serves as the basis for our improvement efforts. This also allows us to better understand our customers' preferences and provide highly personalized and high-quality assistance.
Move & Walk Assistance adheres to the regulations and general advice (SOSFS 2011:9) of the Swedish National Board of Health and Welfare regarding management systems for systematic quality work. You can find more information at www.socialstyrelsen.se/sosfs/2011-9
At Move & Walk, we work closely together, supporting and helping each other to ensure that our workdays are motivating and developmental for both you and our clients. Conductive Education is the foundation of everything we do, and our employees value the unique circumstances and possibilities of each individual.